Take One Picture Exhibition - Men of the Docks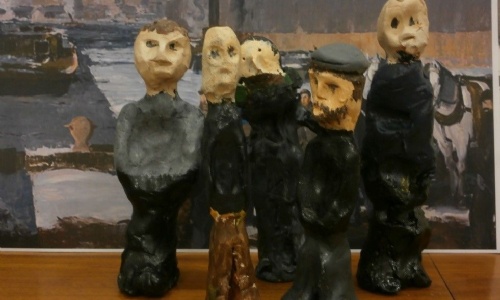 I am very pleased to say that artwork by year 8 and 9 is now on display in the Take One Picture exhibition at the National Gallery. The exhibition runs until the 31st January 2021 and is held in the Sunley Room.
Congratulations to the students for all of the work that went into their projects, and we are delighted to be able to finally showcase and celebrate their work in the exhibition.
We know that we won't be able to go to see the exhibition at the Gallery this year, so the Gallery has included as much information online as possible. The following link will take you to the 'Explore the exhibition' page, with information, photographs and a video which shows what some children think about Men of the Docks:
https://www.nationalgallery.org.uk/exhibitions/take-one-picture-2020/explore-the-exhibition.
A PDF of all the works in the exhibition can be downloaded via this link:
https://www.nationalgallery.org.uk/media/1wlneixu/take-one-picture-2020_works-in-the-exhibition.pdf
A video tour of the exhibition will be made available soon, where you will be walked through the space and told about some of the themes, and shown examples of projects from this year.
Well done year 8 and 9—this is an incredible achievement!
Please enter some content for your news story here.